Detailed Spreadsheet
The Detailed Spreadsheet provides additional documentation about deaths at the Chemawa and Forest Grove Indian Schools.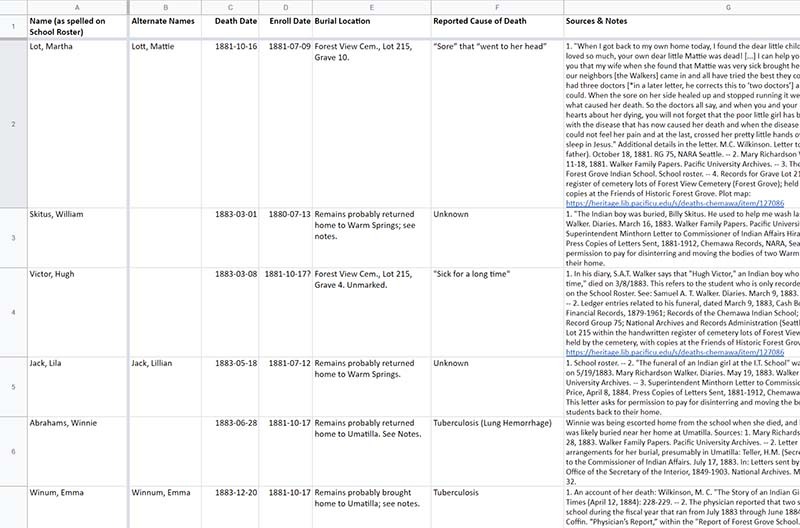 What is included on the Spreadsheet?
The spreadsheet provides information about:
Students who died in custody of the school before 1945, no matter where they were buried
Others who were buried in the Chemawa School Cemetery through the 2000s
This includes some former students who were buried there after graduating; some employees; some children of employees; and some whose status we have not yet been able to determine. Those who were not students have been noted whenever possible in the "Sources & Notes" column. These were included in the spreadsheet so that people researching graves in the Chemawa cemetery would be able to find information about each burial there.
It does not include:
Students who died after being released from school custody.
The schools sent home some students who were very ill. Sadly, students sometimes died within days of returning home. These children also deserve acknowledgment. Some students who died soon after being released are on the second tab of the spreadsheet ("Deaths elsewhere or unconfirmed").
Students who died after 1945
These students also deserve acknowledgement and may be added to the spreadsheet as research continues. 1945 is the end date for this project because the Chemawa School Cemetery appears to have not been used routinely for student interments after the 1930s.

Using the Spreadsheet
To find out more about students documented on this site:
Go to the Detailed Spreadsheet

Find the Student
Hint: You can use "Find on Screen" to find a specific student on the spreadsheet by using Ctrl+F on a PC, by using Command+F on a Mac, or by searching the page on your mobile device.

Scroll to the right on the spreadsheet. The column "Notes & Sources" provides citations for each student. Tribes, Reservations and Student Roster numbers are located further right.

To sort, filter or do other analysis, you can download a copy of the spreadsheet.
To download your own copy, first open the Spreadsheet, then go to File > Download. You can get a copy in Excel, PDF, or other formats. Once you have the file, open it in Excel or Google Sheets. You can then sort, filter, etc. (For any academic republication of the data, we ask that you please cite the original here.)
Please contact archives@pacificu.edu for assistance or questions.
Key to the Spreadsheet
Names - In general, student names were derived from the original school rosters that were created and maintained by school administrators. The originals of these rosters are kept by the National Archives. A digitized copy of the roster is available on the FamilySearch.org site - you will need to sign into their site in order to view it. It is important to note that because the names on these rosters were created by school administrators, they document the English names of the students, which were often different than the Native names that many students used at home. Names taken from the rosters may include misspellings or inaccuracies. When known, additional forms of the students' names are included in the "Alternate Names" column. Corrections or notes are very welcome: please contact archives@pacificu.edu
Alternate Names - This column contains other known forms of the students' names; see "Names" above for more context.
Death Date - The recorded date of death of the student. Dates are provided in YYYY-MM-DD order in order to allow sorting by date. These dates are taken from a variety of sources, including: original school rosters and other archival records of the school held by the National Archives; contemporary newspaper articles; cemetery records; and other sources. See the "Sources" column on the detailed spreadsheet for specific citations.
Enroll Date - The date when the student first enrolled at Chemawa Indian School or Forest Grove Indian School, according to the original school rosters held by the National Archives.
Burial Location - If known, the cemetery and plot location of the student's grave. Corrections, additions and comments are very welcome: archives@pacificu.edu
"Chemawa Cem." = Chemawa Indian School Cemetery on the Chemawa Campus, 3700 Chemawa Rd NE, Salem, OR 97305. This was the default burial location for students who died in school custody between late 1885 through 1944. The location of each grave plot (for example, "G-25") is shown on the Chemawa Cemetery Map page. Please note, however, that research indicates that the grave markers that are currently in place within the cemetery may not match the actual grave locations in all cases. See the Chemawa Cemetery Map page for more information.
"Probably Chemawa, but unmarked." In these cases, there is evidence that the student was interred at the Chemawa Indian School Cemetery, but a specific grave location has not been found.
"Forest View Cem." = Forest View Cemetery, SW 1161 Pacific Ave., Forest Grove, OR 97116. This was the default burial location for students who died while the school was located in Forest Grove, which was between 1880 and early 1885. Only two students are confirmed to still be buried there today. (The other 9 who died at Forest Grove were either returned home or have unknown burial locations.)
"Remains returned home" = There is reasonable evidence that this student's remains were returned home. See the Sources column for more information.
"Unknown" = Evidence has not yet been found regarding the location of the student's grave. Some of these students' remains may have been sent home, while others may be in unmarked graves within the school's cemetery. When possible, we have included a potential location, i.e. "possibly Chemawa Cem."
Grave Marker - This column indicates whether or not there is a known grave marker for the student. We define "marker" as a gravestone or plate that physically marks a grave.* In general, we have left this section blank for students whose remains were sent home.
*Note regarding Chemawa Grave Markers: Grave markers in the Chemawa Cemetery may not always match with the plots where students were actually buried. Around 1960, the school cleaned up the cemetery and replaced many old markers (which may have been missing, disintegrating, or have come detached from their original locations) with new engraved plates. The new plates were laid down in locations that may not match the actual burials in all cases. The Chemawa Cemetery Map page includes more information about the locations of these graves.
Reported Cause of Death - This column provides information about what the students reportedly died from. Most often, we found this information within the school's "Sanitary" records or other administrative records such as rosters. When possible, we have corrected or supplemented the school's reported information about causes of death with corroborations from other sources, such as contemporary diary entries, newspaper articles, and so on.
Sources and Notes - This column contains citations for the sources we consulted that document the student's death and/or burial. We have also entered notes in this column when appropriate. Because the research into student deaths has encompassed many years of work, for some students, we are still correcting or filling in citations. For more information see the page on Sourcesor contact archives@pacificu.edu for assistance.
Tribe - This generally contains the student's tribe as reported in school records, although we have corrected the tribal name in some cases when more specific information has been found. Please note that the school's interpretation of a student's tribe may not always match with how a student would have self-identified. Several issues with the school records include:
Administrators used the names for tribes that they were familiar with, rather than the ones that tribal members would have used (for example, "Eskimo")
Students were only recorded as having one tribe, ignoring cases where students had connections to multiple tribes
Students who came from tribal confederations (like Warm Springs, Grand Ronde, etc.) were often only recorded under the confederated tribal name, rather than their more specific tribe(s) within that confederation
Sometimes the administrators were simply wrong about the student's tribal connections; for example, classifying Samish students as Alaskan Natives
Reservation or Village - This contains information about the student's home reservation and/or tribal village, as reported in school records. In some cases we have corrected this when more specific information has been found. Like "Tribe" above, the Reservation/Village information may not always match with how students would have described themselves.
No. on School Roster - This contains that school administration's identifying number for each student, which was supposed to be unique for each student. Some National Archives records are filed in order of this student number. A scanned copy of the roster is here (a free account is required for access).
First enrolled at which Campus - This column tracks whether a student originally enrolled at the Forest Grove Indian School Campus (enrolled Feb 1880-Mar 1885) or at the Chemawa Indian School campus (enrolled after Mar 1885).